Book sales are back!
next sale February 5th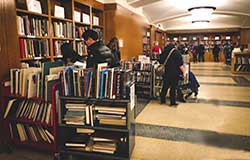 Book sales are on the first Saturday of each even-numbered month from 10 a.m. to 4 p.m. at the Central Library in Copley Square in the Lower Level Conference Room in of the McKim Building.
Volunteers Needed
Must provide proof of vaccination
Please call (617) 859-2341 or email cwfbpl@hotmail.com
2022 Dates

• February 5

• April 2

• June 4

• August 6

• October 1

• December 3

Donations of books are accepted at the sales or can be dropped off at the Central Library's Circulation Desk at any time. We cannot accept VHS tapes, encyclopedias, or out of date computer books.
CITY-WIDE FRIENDS OF THE BOSTON PUBLIC LIBRARY SPECIAL MEETING
JANUARY 18, 2022 at 7 PM via Zoom:
Purpose of the meeting: to amend article 2 of the CWF Articles of Incorporation dated  May 1988

Item 1:
After consultation with and at the request of the Library the Board of Directors of the City-wide Friends of the Boston Public Library recommends amending Article  2 of the Articles of Incorporation dated May 1988 by deleting the words "AND ALLIED INSTITUTIONS" from the Articles
Article 2 General Purposes ~
The purposes of this non-profit corporation shall be to maintain an association of persons to stimulate public support, understanding and use of the Boston Public Library system, its main library and its branch libraries; to encourage, give and receive gifts, endowments and bequests for the benefit of the Boston Public Library AND ALLIED INSTITUTIONS in developing library services and facilities for the library patrons, in keeping with historic tradition of fine public library service in Boston, The Commonwealth of Massachusetts and the USA

Item 2:
Adjournment